Welcome to the SFU Chaplaincy!
---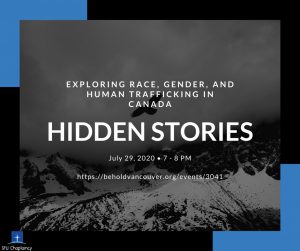 Do you know how commercial sexual exploitation impacts Canada's vulnerable and marginalized groups? How does it look in the Canadian landscape?
Join us to learn more and find out how you can promote human dignity. Organized by Students for Social Justice and the Archdiocese of Vancouver.
---
Mass Time
Fall & Winter terms: Tuesday, Wednesday & Thursday, 12:30 p.m. 
Summer time: Every Thursday at 12:30 pm                                                                                                                                             
During the period of outbreak due to Covid-19, the chaplaincy office is closed.
You are welcome to contact us for counselling, spiritual direction and any other matters.

- Fr. Julio can be reached by email (frjuliolagos@gmail.com) or phone (604-653-3007) on Tue, Wed & Thu at 10:30 am - 11:30 am / 3:00 - 4:00 pm
- Lioba can be reached by email (catholicchaplaincy@sfu.ca) or phone (778-898-2871) on Tue, Wed & Thu from 9:30 am - 3:00 pm

Mass online: the following link can be posted on IFC website: https://www.youtube.com/channel/UCIX1oCA9Bi6MBdWEX6FfbzA

A full listing of Mass in the Vancouver area is available at: https://rcav.org/coronavirus
Interested in the Catholic Faith?
If you are seeking the living God and wish to enter into the way of faith, or are a baptized Catholic who wishes to reconnect with your faith:
Join us for prayer, instruction, discernment, and formation in the Catholic Christian faith.
Where to find us
On the Burnaby campus, the Interfaith Centre is located in AQ3200, on the east concourse of the Academic Quadrangle (AQ), between Renaissance Coffee  and the Mackenzie Cafeteria.
We are also located on the Vancouver (Harbour Centre, Room 7021) and Surrey (Temporary Chaplaincy Space, Room 3068) campuses.